The second phase of The Palms, a new luxurious apartment development, was launched at the weekend.   
On Friday VIPs and key stakeholders attended the exclusive event in Kimberley.
Tefo Maloisane of Afri-Devo opened the event by welcoming the guests, thanking them for taking the time to attend.
"My second task is to introduce a dear friend and business partner of mine, Mr Kesiamang. I have known him for more than half of my life. He continues to astound me in terms of how he oscillates between the big dreams and vision and the attention to detail. He normally follows the lean approach to a lot of things. He takes his time, thinking about what he wants to achieve. He also has a philosophy that whatever we do, we must do it for the next generation. This reminds me of the quote: 'You must be prepared to plant trees whose shadow you might never sit under'."
Andrew Kesiamang of Afri-Devo noted that all the relevant people were in attendance and shared a brief story of when he first arrived on site.
"The first people I approached were my bank in 2007. I did not have enough money to put down for the land, but my banker believed in me."
He thanked the banks, the town planning department, his bond originator, the municipality, the material suppliers, the National Empowerment Fund (NEF) and his estate agents, Vilma Shaw and Doreen Mclaren.
He said Vilma and Doreen went and prayed before even one brick was put to the ground. He also thanked people from The Palms management office. Lastly, he thanked his business partner, Tefo.
'Instant gratification does not work'
Andrew said: "I usually tell the younger generation that instant gratification does not work in this kind of business. It takes time. As much as we can have plans of what we want to achieve in two years' time, there are a whole lot of dynamics.
"When we were about to start in 2008, we had to go through a lengthy process of rezoning and planning with the architects and surveyors and it took a lot of time. 
"This was followed by a global recession and by the time the dust was beginning to settle down things were difficult. The banks had changed the way they approve funding. But if you believe in something you just go for it. And if there is a commitment you will definitely make a breakthrough."
He continued: "Kimberley has to grow, and we know that it is under-developed."
After the speech, guests and stakeholders went to view the upmarket unit that oozed sophistication and great finishes.
Adrian Dillion of Builders Warehouse said: "Andrew is a big role player in our business and in the town of Kimberley. We would gladly supply more material to him in the future."
'Excited to launch'
Doreen said she was very excited to launch second phase.
"It is awesome to see the people's response after seeing our show unit. What we have achieved is amazing. It all started with a dream, and the dream became a vision, and today the vision became a reality, and I am proud to be part of Afri-Devo.
"We went through a lot of growing pains. There were a lot of challenges in the first phase, which we learned from. This is the only sectional title complex in Kimberley of this size. That is a major achievement for Mr Kesiamang."
About the phase two units, Doreen said out of the 12 of them, five were already sold.
"There is a very big need for three bedrooms and two-bathroom units for families. The ground floors are very popular. I think by next year this time we will again get together and say wow."
Vilma echoed the same sentiments.
"I just want to complement Mr Kesiamang. And I want to thank all the labourers and workers for the hard work that they put in."
Proud moment …
Kgatliso Manake of the National Empowerment Fund (NEF) was also in attendance.
"Andrew is one of our former investees.  We have funded phase one of The Palms. Today is a very proud moment for the NEF, to see an investee that was funded and has grown in leaps and bounds. It is really a milestone for us. We are proud to have been used as a catalyst to transform the property development industry.
"We wish Rre Kesiamang all the best. May this achievement bring much more. Let Afri-Devo grow into a much bigger entity. Let is also serve as a beacon of hope for all aspiring property developers and practitioners. Our doors are always open to aspirant black entrepreneurs," said Kgatliso.
Guests were treated to mouth-watering and delicious light lunch, wine and smooth, relaxed music while mild chatter and laughter filled the space.
Saturday's event was attended mostly by members of the public who had come to the show house.
Many were pleasantly astonished.  
Stunning units
A young couple from Kimberley said they were looking into investing in one of the new units.
"The unit is very stunning. It is spacious. It creates a nice, warm atmosphere. I know the décor is not gonna be there, but the décor in it now really looks nice. I love most the kitchen and the bathroom. It's modern and fresh."
Elderly couple Louisa and Isaac Moroka said: "The place is nice and safe. The bedroom is nice. The kitchen is modern. It feels like we just saw an apartment in Sandon. We might be moving here very soon."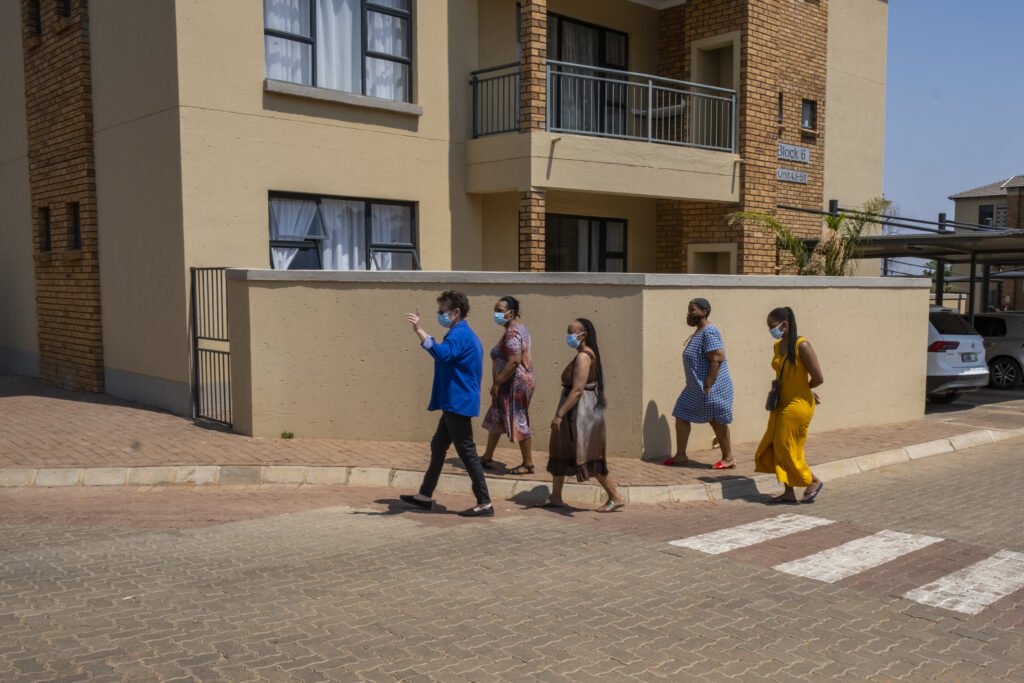 Andrew concluded by saying it was great to see the dream come together and to see people leaving the place happy, which also made him happy.
"It's about building pleasant homes, not houses."
Great employees
He also sang praises of his employees.
"They now understand what needs to be done. There is so much passion. Moving into phase three and phase four we can only get better. We tried to give better quality at an affordable and competitive price.
"We are way cheaper than Gauteng and Cape Town but giving the same quality. We have used local artists for the water feature, the landscaping and all the paintings."
'We need a clean environment'
About the solar power for the complex he added: "We need a clean environment. We have abundant solar resource in the Northern Cape, so it makes sense to go for solar street lighting and solar geysers."
This is just the beginning, Afridevo envisions a restaurant, a boutique hotel, a laundromat, and a children's playground, among others, as next additions to The Palms.